Donate to Help Us Serve a Meal on Christmas Day
For many of the homeless, Christmas Day is just another day without food or shelter. Without feeding initiatives and volunteers, the wonderful taste of a holiday dinner wouldn't be possible for the homeless. Help feed the homeless on Christmas Day at the Homeless Voice Shelter to ensure the spirit and tradition of the holiday is shared with the less fortunate.
The Problem
Due to the pandemic, more people living on the streets than ever will be hungry and without shelter on Christmas day. Less shelters and food banks are open, and less volunteers means the ones that are, are hard-pressed.
As this pandemic has raged we've gone to the streets ourselves to check on them and keep them healthy. Even though we can't serve meals in the kitchen like we used to, we are asking for your support and donations to help us keep our mission in making sure no one is hungry or alone on Christmas day.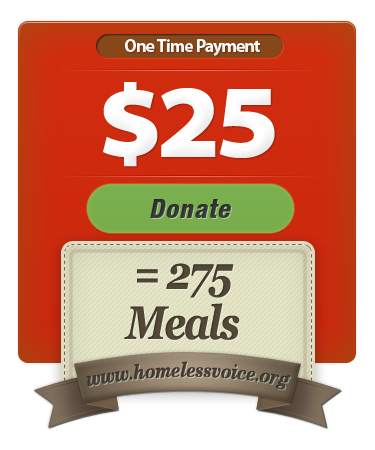 On donate page a custom amount to be donated can be chosen
Donate by Mail – Send Checks To: The COSAC Foundation, P.O. Box 292-577, Davie, FL 33329
Donate by Phone – Call Fran At: 954-924-3571 Ext 102
---
The COSAC Homeless Assistance Center is registered with the Internal Revenue Service as a 501(c)(3) charity and promotes the Homeless Voice's mission through public education. Contributions to the Homeless Voice are tax-deductible.
COSAC Homeless Assistance Center's Tax ID number is: 65-1035076.
---