By Andrew Fraieli
Everyday there is food wasted by large businesses, thrown away because boxes are damaged or they're close to their expiry dates, and everyday people go to sleep hungry who could benefit from this wasted food. Today, there is one more solution to this in the world, the Rose K. Boatwright Food Pantry.
Created a year and a half ago in 2018 in Lakeland, Florida, the pantry takes this would-be-wasted food, as well as donations, and makes it available to the homeless and families in need.
The pantry operates different from others as it's run out of a furniture store, managed by Susan Stover — the daughter of Rose K. Boatwright. It's significant as without that aspect it could not possibly work at such a scale.
According to Stover, they pick up four to five thousand dollars of food per week — with about 2,500-3,000 ft. for freezes and pallet storage, completely using up one of their four furniture warehouses out back. "We're in desperate need of a walk-in freezer, but not we're not going to get it before moving because it needs to be permanent, we'll be able to save more and give more out," she says. "We feel like we've outgrown and need another location so we don't impose on the businesses around us, in parking spaces taken up etc."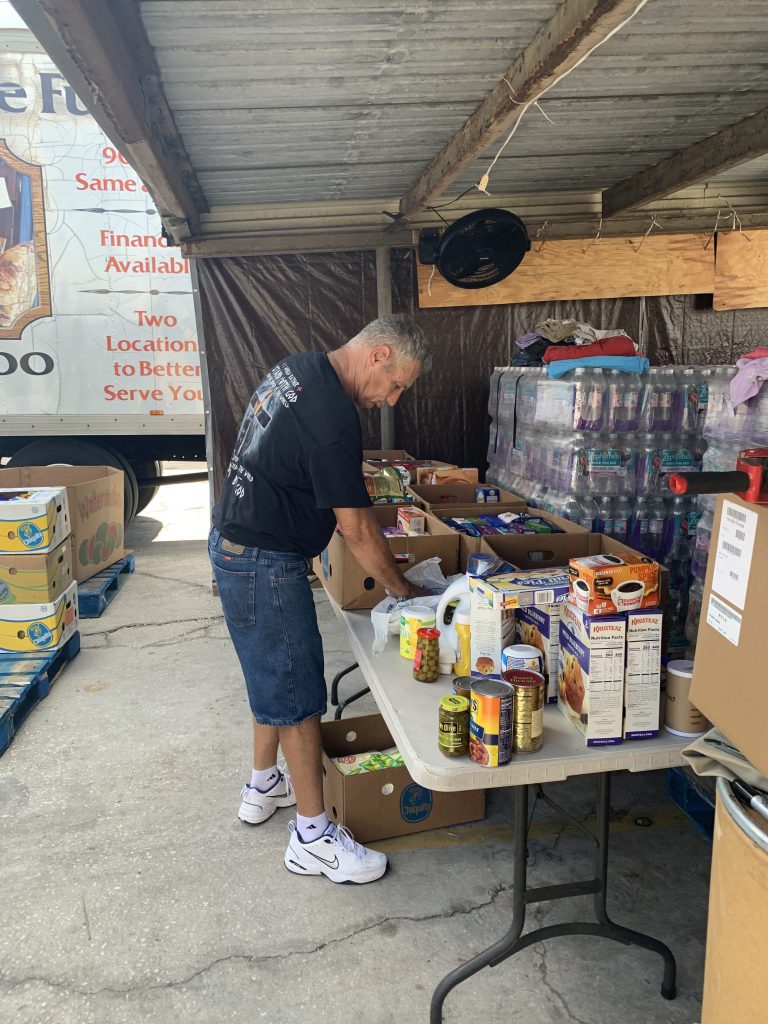 The bulk of the food comes in the form of broken or damaged boxes or goods — donated from companies like Publix's if the trucks don't have time to return them. With her brother Dallar driving trucks of pallets — volunteering to unload them and take care of storage and freezers — and her nephew Billy — owning a trucking company, Barstow Transport, of 32 trucks on the road delivering to different businesses — the pantry can rack up 14 pallets of food a week.
These pallets of donated food could be hamburgers from Publix's, which can have 55 boxes with 24 burgers per case. Laughing, Stover says they got 48,000 hotdogs one time, 40,000 links of sausages once too. With different trucking companies, they can get microwave meals like Lean-Cuisine, which they usually keep for the elderly as easier to prepare meals, and "we try to keep peanut butter and jelly for kids, any extra treats like candy or marshmallows we put aside for them too."
With the donated pallets, along with the two food bank locations they pick up from and the bread store that donates as well, they receive anywhere from $10,000 to $22,000 of food per week total.
This much food isn't helpful unless there's an organized way to hand it out, and that is exactly what Stover, along with her family, have managed to do.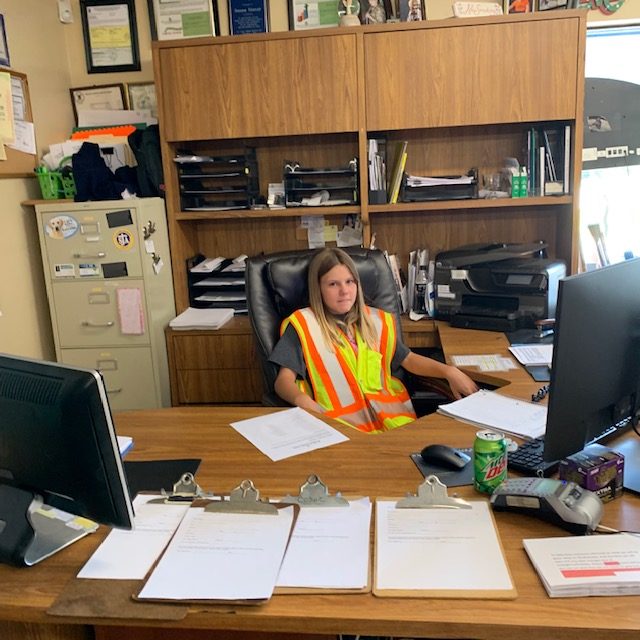 Every Wednesday the furniture store is shut down to allow them to pass out food all day long. About 12 people come to help, about nine of which are family, "my grandkids are in their little ducky outfits in the rain passing out food and water, and my niece and nephew, 12 and 14, help carry food to cars." One grandchild, Maddison, 11, handles the sign-in list as well — people have to sign-up for Wednesday's food pantry day, and give a name and show an ID before being marked off to receive food.
"Our [pantry] is different. We don't just hand them a pre-made box of food. We get our tables up and they get to pick and choose what they want. There's no point in giving them food they won't want and will throw away, I think this is why we are so successful," says Stover, describing their process. "We do limit how much so everyone can have something. People bring their own bags and get to see what they'll use."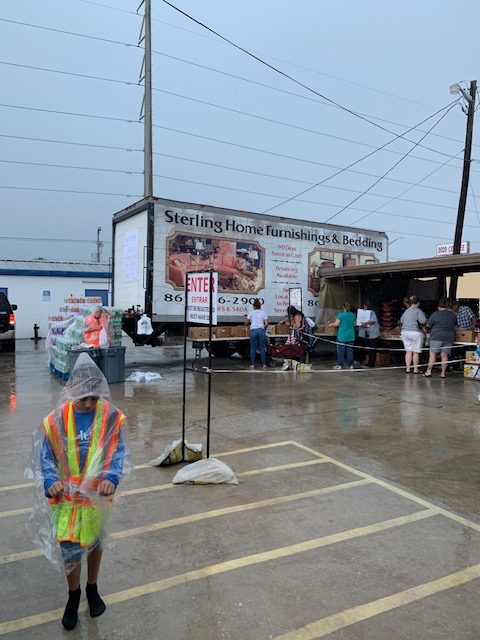 These Wednesdays, almost 250 people come from all over — "we service the Lake City area and the local area here by the Polk County," Stover says — to collect food, some for their families, some for themselves, and some even for people going through rehabilitation. "Some people doing drug rehab, we help with their food so they can get what they need. We help some families where they may have lost their job and really need help, and some elderly who are in desperate need have food stamps that may only come out to 15-20$ and can't get much."
The pantry heavily relies on the volunteer work done by Stover's family, herself included. Her brother Dallar "spends up to 18 hours a day in the food pantry, working with different case workers as well" whom the food pantry assists with getting their client's food. Dallar will also "drive 155 miles one way to unload a truck where food is needed, and drive back the same day because we have work the next morning" at the furniture store Stover says.
Stover says her sister, who works for the homeless coalition, handles the applications for the food on Wednesdays and she "mostly takes care of the business end." They do work the food bank seven days a week though, "even if it's night time we stop so we can help," she says.
The food pantry is named after her mother who frequently went to the COSAC foundation's old hotel shelter for the homeless in Fort Lauderdale. "My mother would go out to Sean's motel and my mother in the wheelchair always helped and taught us to help, if we can change anything, to try," Stover says. "She was 85 when she started going to the hotel, she would go talk to some of the homeless ladies. Come Christmas time she would give away a lot to help them."
Stover continues that "we were homeless ourselves sometimes growing up, and it was difficult as a single mother." The shelter came into being because of Sean Cononie, who is the founder of the COSAC foundation; Stover says, "Sean said one day, 'Let's make a food bank in the name of your mother'. And now we've outgrown it!"
The pantry also provides the food to the nearby COSAC Foundation shelters, including the Veterans Inn and the Motel 8, and assisted with building it up according to Stover, "It was our trucks that helped move everything into the Veterans Inn, all the equipment. There was a whole crew of us, we had an assembly line building bunk-beds."
The pantry has even been recognized by the community, receiving a "certificate of appreciation" and a free dinner from Sonny's BBQ on Nov. 5.