Driven to help those that can't help themselves, the Homeless Voice's outreach team brings COVID-19 vaccines to those on the street.
By Andrew Fraieli
What was previously an outreach team, roaming the streets at night to give shelter and food to those in need, has turned into a mobile hospital for those who haven't been able, or aware enough, to get vaccinated.
Just six months ago, the team began administering shots and have already given out almost 200. The team consists of two registered nurses and four volunteers, and are led by the head of the COSAC Foundation and publisher of the Homeless Voice, Sean Cononie. Together they go out every couple days to search for those in need.
In the past, they gave out vaccines during the swine flu outbreak, so this is not their first time. But this time around is different, according to Cononie: "The homeless aren't in groups like they used to be a long time ago, the cities have stopped them and made it very hard for us to find them. So we really have to go looking for them."
The team goes out in the morning and late at night, but "some days we can go out all day and find one, and some days we'll [vaccinate] 20," he says. Over the past months this has been across Dade, Broward, Jacksonville and Palm Beach counties.
Only the "really functional homeless" get the vaccines themselves according to Cononie, so the team looks for "people who aren't normally going to go take care of their own health problems…the really hard to reach. We even do some trailer parks, people who don't have transportation, stuff like that."
The team goes out with an RV and sets up with the vaccines and supplies, along with an SUV that they drive around to look for people, and transport them.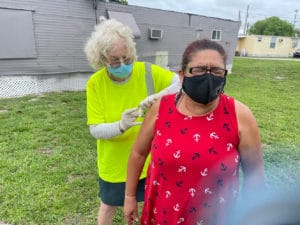 The process doesn't take long: going over risk factors, reading forms, and asking if they are interested. "And if they decide to, we give them a shot, and they wait about 20 minutes after the shot, and we're done."
For those who are hesitant, they come back another day, but many do decide to take it as the team has interacted with many of them before, and they've built a measure of trust. Even when the pandemic first started there was no gap in their outreach. They stocked up on masks, gloves, hand sanitizer, all sorts of PPE, and would travel around the same way passing it out.
The vaccines themselves they receive for free from the Florida Shots state program. Whenever they run out of supply, they bring people to a CVS or Walgreens — of which they've brought 300 people so far.
They also keep track of everyone after giving out the vaccine, taking down cell phone numbers and having the people call them if they need anything, "and we go out looking for them." This is to make sure everyone stays safe — in the past they've gotten calls for allergy medications and emergencies — and for second shots, as they give out both the Moderna and Johnson & Johnson vaccines.
When finally asked how long he thought they would be giving out the vaccines, Cononie answered quickly, "I don't think we'll be able to stop. I think we'll be doing this for a long time."